Publishing is a lot like fight club—especially traditional publishing.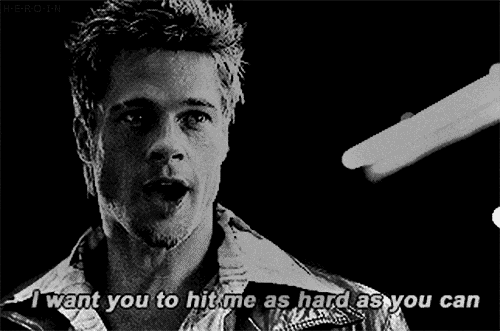 A lot of the mystery swirling around getting any questions answered in publishing are chalked up to the fact that the experience is different for everyone. Timelines are different, deals are different, everything is different. And that's not a lie.
But it's also not the whole truth.
There are also things, as an author, that you're just straight up not allowed* to talk about. So in lieu of talking about the forbidden subjects, we wanted to do the next best thing and at least talk about what the forbidden subjects are, so you know why we're not talking about it.
The first rule of pubclub is: YOU DO NOT TALK ABOUT THE MONEY
Have you noticed that no one ever talks about their advance amounts or their royalty rates? That's because they can't. Even Publisher's Weekly, which announces those deals, uses vague phrases. Nice deal, good deal, etc. Those aren't arbitrary. Each adjective is assigned to a number range so people in the know have an idea of the deal size, without breaking the cardinal rule of pubclub.
The Why of this…is also not really talked about. And I won't talk about it now. But catch me at a romance writer conference bar sometime, and I might let a few opinions slip.
The second rule of pubclub is: YOU DO NOT TALK ABOUT THE MONEY
…For real. They tell it to you twice. It's that serious.
The third rule of pubclub is: YOU DO NOT TALK ABOUT SUBMISSION
When you go on submission, you tell no one. You don't mention how long you've been on submission, and you don't mention who you're submitting to. If you get an offer, you can't talk about it. Until terms get hashed out, agreed to, and a deal alert is posted on Publishers Marketplace, you have to pretend that nothing exciting is happening in your life.
Fun fact about the third rule…once the deal is signed, you're off the hook on this UNLESS there were multiple offers for your book. In those cases, the risk of offending an editor or house that you may want to work with in the future gets really high, so welcome to a permanent citizenship to vague-city.
There are a bunch of other things you kind of don't talk about (I am perpetually behind on my deadlines, so I get real vague about how far along my book word counts are), but those are the big ones that you're going to notice are missing as we post our stories about our first publishing deals.
*Allowed is relative. Obviously, no one can stop you. But there are strongly implied (and sometimes outright described) repercussions for authors who break these rules. Like everything else, your mileage and leeway varies. If you're Nora Roberts, no matter how many toes you step on, somebody is still going to print your books.
RWchat co-founder Kimberly Bell writes funny, women-centric romance novels in historical settings from her cabin in South Lake Tahoe, Nevada or the beaches of Southern California. (It's a super tough life, she knows.) After a successful career in internet sales and marketing, she decided to pursue a pants-optional lifestyle which led to her first book: A Convenient Engagement, which was nominated for a Golden Heart. From there, it's been a whirlwind of excitement and deadlines. She is a pretty hardcore introvert that loves dogs, cheeseburgers, spreadsheets, and occasional day drinking. She also spends way too much time on twitter. She is represented by Rachel Brooks of the L. Perkins Agency, and currently published by Penguin Intermix and Entangled Select. Her latest book, A Ballroom Temptation, was released in April 2017, and her next book, The Importance of Being Scandalous, is available for pre-order.